ANNUNCIATION GREEK ORTHODOX CHOIR
The Annunciation Choir consists of parishioners who have chosen to share their gift of music with Church. The choir is an active group that meets for weekly rehearsal on Thursday evenings at 7:00 p.m. in the choir loft. Sunday morning Liturgy begins with the Doxology at 9:50 a.m. each week throughout the Ecclesiastical year. The Annunciation Choir is open to anyone who would like to join and is willing to make the necessary time commitments. Auditions are not required, but prior musical experience is beneficial. For information about the choir please contact William Bobolis, Music Director.
MUSIC CDs
Compact disks of the Divine Liturgy by the Annunciation Choir are available by calling the Church Office, (916) 443-2033; there is no charge but a small donation to the choir fund would be appreciated.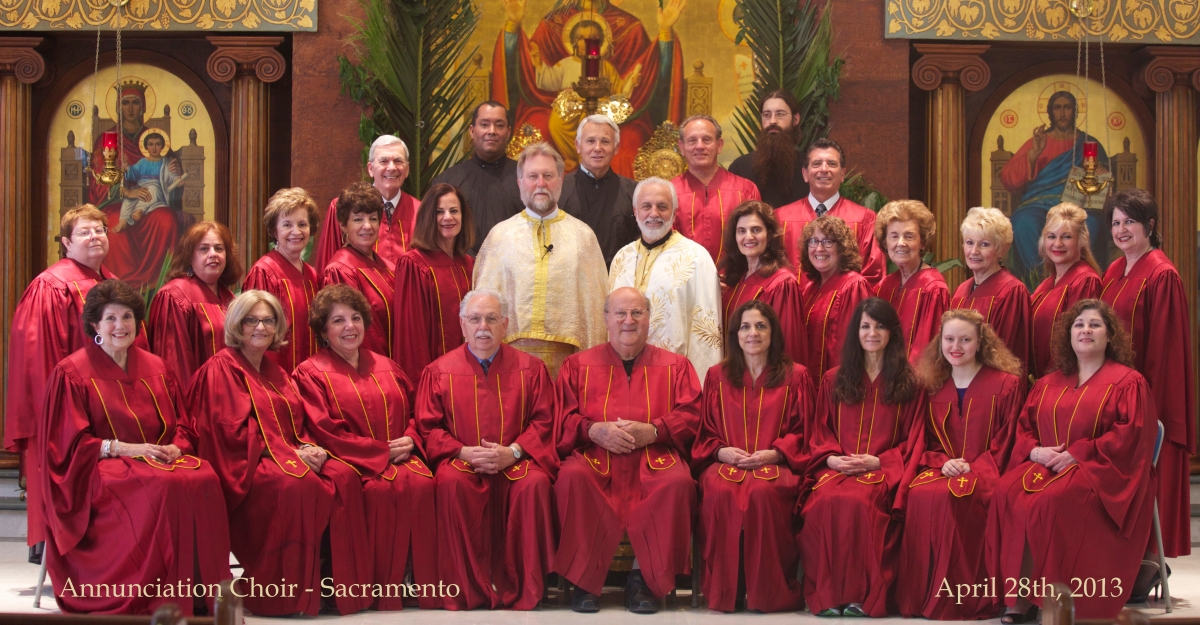 Front row: Liz Dokimos, Suanna Gurovich, Julie Mamalis, Terry Kastanis (President), William Bobolis (Director), Maria DeVille (Organist), Jamie Bobolis (Assistant Director), Maria Cazanis, and  Margarita Jakovas (Regional Administrator).
Middle row:Barbara Takanikos, Sylvia Maritsas, Mary Kyriakides, Helen Paraskevas, Joann Georgallis (Parish Council Liaison), Father Timothy Robinson (Associate Priest), Father James Retelas (Proistamenos),  Andonia Cakouros, Presvytera Marsha Robinson, Bessie Pothos, Mary Stathos, Stephanie Bobolis, and Bessie Papailias. 
Back row:John Kyriakides, Gary Paul Leonard, Nikitas Skondras, Demetre Fotos, Dusan Radosavljevic (Lead Chanter), and  Jim Chuchas
Camera shy: Evelyn Bobolis, LuAnnn Higgs, Presvytera Ellie Dogias, Fany Darzins and George Kastanis
Gary Leonard, Dushan Rado, Mihail Slavkov, Fr. Timothy Robinson, Fani Darzins, Fr. James Retelas, Nikitas Skondras, Anastasios Hionis, Andrew Gorny