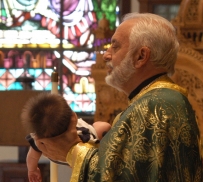 Pentecostalism and Eastern Orthodoxy
By Edmund J. Rybarczyk
ORTHODOX, if they know anything at all about Pentecostals, lump them with Evangelicals. Pentecostals might proffer a semblance of Christ's presence, but lacking Christ's apostolic priesthood and "the fullness of Orthodoxy," as the Orthodox like to state it, they are relegated to a shallow emotionalism that can never produce lasting change. Both groups traditionally have been quite parochial in their unwillingness to recognize Christ in others claiming to be Christians but who are not Orthodox or Pentecostal, as the case may be. We must be fair. Both Orthodox and Pentecostals are impelled by their convictions about Christian truth, and neither is rightly willing to sacrifice Christian truth for the sake of spurious fellowship. All is not relative. Christ is the only means of salvation. However, a historical examination of both churches bears out that both have allowed race, culture, nationalism, historical myopia, and tradition to obfuscate a recognition of Christ in others.
This excerpt caught my attention because no matter how cognizant we in the pews at Annunciation are about other Christian traditions, e.g. Pentecostals, it is crucial that we have at least a working knowledge of our own faith, a faith sustained through the millennia by the All-holy Spirit. The fifty days following Great and Holy Pascha are known liturgically as the "Pentecostarion," a series of feasts and celebrations culminating on the Sunday of Pentecost (this year June 8). But it is very significant that Holy Pentecost does not signify the end of a journey but the beginning of a new one. In fact, this special liturgical season actually ends a week later, the Sunday of All Saints. So what is the Holy Spirit trying to teach us here? Simply that everything we do liturgically and functionally (dare I say "administratively") as the Church has one goal: the making of saints.
Metropolitan Kallistos in his book "The Orthodox Way," describes three striking expressions of this gift we have received, the gift of the Paraclete:
First, it is a gift to all God's people. "They were all filled with the Holy Spirit" (Acts 2:4).
It is a gift of unity: "They were all with one accord in one place" (Acts 2:1)
Thirdly, the gift of the Spirit is a gift of diversity: the tongues of fires are 'cloven' or                              'divided' (Acts 2:3), and they are distributed to each one directly.
What an amazing new reality: fullness, unity and diversity, all at once, perfectly balanced, and propelling us toward sainthood. Talk about an exciting faith, a live faith, a "pentecostal" faith! What could possibly be more fulfilling? It's like celebrating your birthday every day of the year, with one major difference: the presents get better with each passing day. And how appropriate, since Pentecost is often characterized as the official birthday of the Church. So come to Church and claim your birthday present. Come to Church and share your gifts of the Spirit. Come to the hallowed grounds of our beloved Annunciation and enjoy the gift of unity in diversity.
With love in Christ,
Fr. James Retelas
Proistamenos