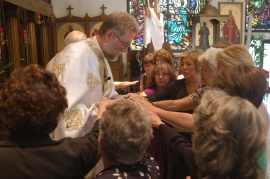 Beloved,
Christ is risen!  I recently preached a sermon on Acts 6:1-7 (Sunday, May 19).  The sermon was not recorded on this particular Sunday, and several people have approached me about reproducing at least a summary of that homily.  Here it is.
Some time ago a good friend of ours who works in the office of a large Orthodox parish posted this on facebook: "While I generally agree with most of the criticisms of organized religion (though calling the Orthodox Church organized is a serious exaggeration) I think the spiritual but not religious folks miss the necessary dimension of being with others that takes place in the ordinary and in some ways accidental community of parish life, which in its sacred dimension culminates in those sacred realities we call sacraments. For me this has the added dimension of working in the Church office on the ordinary business of the parish. If you asked me, at this point what my spiritual practice is, I would have to say: I answer phones, do scheduling and mailings and other secretarial duties."
Truly God uses the community of the Church with its problems and sometimes annoying people to shape and transform us.  Acts 6 provides us with a helpful illustration of the how the Church has developed as an organization and how it functions and deals with problems:
Problems are the norm in every human organization and certainly in the Church. Life does not run smoothly.  There are always conflicts, disagreements, and disgruntled people.  There are always people who feel left out of the mix.  The problem here was that a group felt (justly) disenfranchised.
If we can be patient and work together, we can almost always find good, workable solutions. What was the solution here?  The Apostles appointed people from the group that perceived themselves as disadvantaged to administer the issue.  An excellent strategy for leadership.
The Church has leadership, and leadership has to have and set priorities. We are not left to our own devices in the Church.  We have to answer to the Lord and His priorities.  Apostolic priorities were not administering a food program.  There is nothing wrong with charity because this was a real need, but the work had to be shared.  Everyone has their own gift, their own ability.  Everyone in the Church has a ministry, a service to give.
Leadership in the Church has prerequisites. The Orthodox Christian Church is NOT a democracy.  Everything in the Church is done by permission with a blessing.  Everyone in the Church should serve the Lord and the Church.  Not everyone should be in leadership.  Here the Apostles carefully vetted a group of men to lead this new ministry.
It is absolutely normal for the Church to grow. We have been focusing on Evangelism as a need in our parish.  Remember that Orthodoxy is for anyone and everyone.  Orthodoxy, as I like to tell people, is just Christianity.  We have a direct living link with this Early Church that we are reading about in the book of Acts.  Orthodoxy has the power of God in the Holy Spirit.  We have every reason to be bold.  We have nothing to be ashamed of.  Our particular Tradition of the Christian Faith is glorious and full of holy and wise people.  Our Faith in Christ works to transform us into people that we call "Saints."  We must be humble, but we can proclaim to everyone the message of a risen Son of God who loves us and has the power to save us.
In summary, it is a great privilege to know God, to be a Christian, and to be a part of the Church of Jesus Christ.  The Church will always have problems and challenges.  Sometimes our confidence in the institutional Church may not be high, but our confidence in the Sacramental Church, the Body of Christ, the Church as the community of those being saved by Jesus Christ, can always be great.  The Church will not fail.  God will work through us to find solutions to our problems and help us move forward.  The Apostle Paul writes in his letter to the Church in Ephesus (chapter 1): "God has put all things under the authority of Christ and has made him head over all things for the benefit of the church.  And the church is his body; it is made full and complete by Christ, who fills all things everywhere with himself."
Fr. Timothy