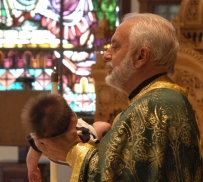 I read the following article in its entirety ["The Mystery That Moves the World Now Has a Name: How 150,000 Mayans Turned to Orthodoxy." Road to Emmaus: Spring 2013] and my only response was what we proclaim at Great Vespers of Pentecost: What god is great as our God?  You are God, who alone works wonders!  Τις Θεός μέγας, ως ο Θεός ημών;
Surely the Holy Spirit is at work in Guatemala.  Some of us from Annunciation who have traveled there can attest to the beautiful spirit of the Mayan people.  For them to embrace our precious Orthodox Christian faith, as astonishing as it may seem, is not so surprising.
I personally realized this at the Hogar Rafael orphanage when I experienced first hand the joy of so many children singing not just the entire Divine Liturgy, but Matins and Vespers, and not just Sunday mornings, but every day.
Compare this with our congregations here in America, where the Liturgy has largely become a "spectator sport."  I mention this only to emphasize the importance of worship in our Christian formation.  No doubt the Mayans were convinced of the Truth of Orthodoxy through their worship experience, and the most important offering we can make to America is our worship.
If we renew and expand our liturgical practices, it will do more to revitalize our churches than 100 food festivals.  The same Holy Spirit is at work in Guatemala and Sacramento.
St. John Chrysostom, writing some 1600 years ago, reflects on this in one of his homilies:  Of the one and of the other, Christ makes a single body.  Thus he who lives in Rome looks on the Indians as his own members.  Is there any union to be compared with that?  Christ is the head of all (Homily 61).
At Pentecost, we opened our hearts and minds to the Holy Spirit for renewal.  May we rejoice in the knowledge that 150,000 (and counting) of our brothers and sisters in Guatemala and Central America have also responded to the prompting of the same Holy Spirit and now join us in our journey home.
And it shall come to pass in the last days, says God, that I will pour out My Spirit on all flesh; Your sons and daughters shall prophesy your young men shall see visions, your old men shall dream dreams (Acts 2.17).
With love in Christ,
Fr. James Retelas
Proistamenos