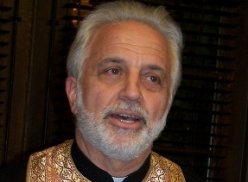 Father Timothy shared with me the following excerpt from delanceyplace.com:
As reported by Pulitzer Prize winning author Jeffrey Marx, Gilman High School in Maryland has a highly successful football team.  And its coaches have a few unusual rules — such as an ironclad rule that no Gilman football player should ever let another Gilman boy — teammate or not — eat lunch by himself. And the requirement that players constantly base their thoughts and actions on one simple question: What can I do for others?
"What happened that first day at Gilman was entirely unlike anything normally associated with high school football. It started with the signature exchange of the Gilman football program — this time between head coach Biff Poggi and the gathered throng of eighty boys, freshmen through seniors, who would spend the next week practicing together before being split into varsity and junior varsity teams.
" 'What is our job?' Biff asked on behalf of himself, Joe, and the eight other assistant coaches.
" 'To love us,' most of the boys yelled back. The older boys had already been through this routine more than enough times to know the proper answer. The younger boys, new to Gilman football, would soon catch on.
" 'And what is your job?' Biff shot back.    'To love each other,' the boys responded.
" 'I expect greatness out of you,' Biff told the boys. 'And the way we measure greatness is the impact you make on other people's lives.'
Now here is a great segue for us to ask ourselves of Annunciation both the what and why we are here.  They are distinct but related.  What we are doing here in the next year or two is building new facilities.  But WHY are we building?  For most, the obvious answer is to replace dilapidated buildings, but that's not the case.  The real WHY we are building must be derived from our core mission: to bring all people to full maturity in Christ.  Not just Orthodox, not just our immediate family members, not just Sacramentans, but ALL people.  It may come across as sloganeering but just like the Gilman high school football team, we are here to love each other and have an impact on other people's lives.  It is an infinitely simple message and must be the litmus test for every new project (3,000 sq. feet of marble in the church or 42,000 sq. feet of new construction) and every current or proposed new ministry.  It may sound crass but we as Orthodox Christians have an amazing "product" to offer the world and here's the sales pitch:  "Do you want to experience love, joy and peace, experience God more intimately and prepare yourself for eternal life?   If so, then do I have a church for you!"  How many of you have actually delivered such a "sales pitch" to others?  How many of you have even asked yourselves if you believe that your Church, the Orthodox Church, is the best possible way to experience what St. Paul wishes for his spiritual children in Ephesus:
"and that Christ may dwell in your hearts through faith; that you, being grounded in love, may have power to comprehend with all the saints what is the breadth and length and height and depth, and to know the love of Christ which surpasses all knowledge, that you may be filled with all the fullness of God."  (Ephesians 3.17-19)
In this New Year, may we challenge each other, even demand of each other, to yearn for such grounding in the love of Christ.  To Him be all glory, now and forevermore.
Faithfully,


Father James