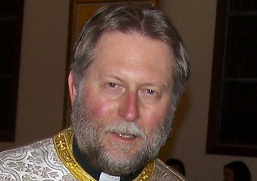 Beloved,
Are you getting ready for "The Holidays"? I love this time of year, but as a Christian, I don't say "Happy Holidays" to people. I say "Merry Christmas"! Our culture celebrates this time of year, Thanksgiving, Christmas or Chanukah, and New Year, positively—family, special foods, entertainment, etc. And it also markets this time to us as a period of greed, self-indulgence, especially alcohol consumption, as well as remembering "the needy." But, as we all realize, the actual religious foundations for this wonderful time of year, often get lost.
I am not being trite, and I want to avoid cliché. This is a serious issue for us. How do we protect the serious, religious, spiritual content of this season? Here are a couple of counter-cultural suggestions:
Make it a fasting season. The Church invites us to fast during November and December. The fast is more relaxed than Lent. For most of the time fish is allowed on most days except Wednesdays and Fridays (Lenten days anyway). The fast gets stricter after December 12. The problem is, of course, that most of us are invited to "Holiday" parties where it is hard to fast. Can you tell your host ahead of time that you are eating vegetarian? There are lots of vegetarians and vegans out there these days. Most people gladly make exceptions. By the way, the Church gives us "oikonomia" to eat guilt-free turkey on Thanksgiving!
Fasting during this season is truly counter-cultural. Why do we persist in this practice? What do we hope to accomplish? Orthodox fasting is not self-punishment. During fasting seasons it is just more of what we observe nearly every week when we keep a vegan fast on Wednesday and Friday. We are not trying to earn points with God or impress other people. God is not impressed with our ascetical efforts. Just as the Gospel is only good news for sinners, so fasting is a tool for sinners. Through it we humble ourselves, submit to a discipline outside of ourselves (very important!), and cooperate with God's grace to learn self-control. We really need self-control! Talk to your kids about fasting and what you are doing and get them involved with you. You set the example and invite them to participate. Those cookies and candies will taste even better on Christmas day!
Make it a season of love. The great Feast of Christmas, especially, is a celebration of God's love. "God so loved the world that He gave his unique Son to us!" (John 3:16) God teaches us about what love is: It is a commitment to benefit someone else. It is giving. Besides all of God's gifts to us, His gift to us humans is ultimately Himself. How do we honor this feast? Giving presents to one another is OK. But the Lord reminds us that giving to people and expecting something in return shows little virtue: "If you love only those who love you, what reward is there for that? Even corrupt tax collectors do that much. If you are kind only to your friends, how are you different from anyone else? Even pagans do that." (Matthew 5) The Lord then goes on to exhort us to give to those who cannot give back, to lend expecting nothing in return, to go above and beyond the norm in generosity.
This season of "giving" really calls us to get our eyes off ourselves and look around. To whom should we give? To God! We give to God by supporting His work in this world, by giving, first, to His Church. And we honor God by giving to those truly in need. So, exchange some presents. Be moderate! But besides this, as a family, set aside some money to give to the Church. Invite your children to participate in this with their money, allowances, etc. And give to the needy. You could give to charity (there are plenty and there is always great need), or if you know someone who is struggling financially, you could become a "secret Santa" for them. Relatives? Friends? Enemies? Employees? Neighbors? A soldier overseas? We have a nephew in the Marines who is just about to head for Afghanistan. He will be on our Christmas list! It works better if you give them something and in such a way that they are not embarrassed. The point is that you are trying to tell someone that you care about them. You are expressing the commitment of love. No expectation of any recompense. Again, involve your kids! This should be a family project. You will be amazed by the spiritual results. This is a practical exercise in self-forgetfulness.
Rejoice! Love God. Love others. Have a wonderfully counter-cultural spiritual Thanksgiving and Christmas! And may God bless us, everyone!
Fr. Timothy