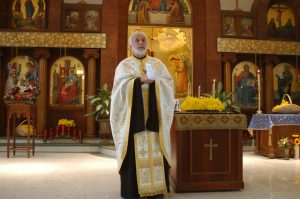 You would think that after nearly two months of preparation for Great and Holy Pascha that we would be relieved that the day has finally arrived. With all the preparations, the fasting, the extra services, the emphasis on Confession, can't we just enjoy the feast and set things on "cruise control" for a while?  Not so fast.  Let's one more time reflect on the journey of Lent to make sure we are really prepared (indeed even able) to enjoy the Feast of Feasts on May 5th.  Let's look at St. John Chrysostom's homily, not the one we are all familiar with from Pascha, but another one for the beginning of Great Lent:
If anyone is devout and loves God, let him commence this radiant fast with joy!
If anyone is a wise servant, let him, rejoicing, enter into the school of repentance.
If anyone has strayed from the first hour, let him today repent with zeal.
If anyone has sinned from the third hour, let him with gratitude embrace the fast.
If anyone has fled from God from the sixth hour, let him have no misgivings about his prompt return.
For the Lord who is long-suffering and full of compassion and mercy, will accept the last even as the first. 
He restores him who repents at the first hour, as He does him who turns back at the eleventh.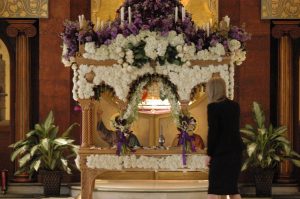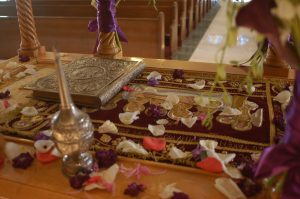 In other words, it's never too late to begin preparing to experience the joy of the Resurrection.  In the same manner that we appreciate a hard earned paycheck through honest work, the joy of the Resurrection increases the "harder we work" at the task of repentance.  And what is this repentance that Chrysostom emphasizes?  Nothing short of a radical new direction in life that focuses us on the love of Christ and His mercy toward us.  To quote our Metropolitan:  "Our religious practices are meant to lead us to better relationships with God, with ourselves, with our community and with the world around us.  Our Lenten goal should be to light a candle for our families and then work to reconcile any broken relationships in them.  Our Lenten goal should be to participate in the Sacrament of Confession and then work to bring health and wholeness to our lives."
I hope you will agree that repentance in the Orthodox Christian Tradition is hardly a morose spiritual exercise or religious obligation.  In fact, we should always apply repentance as a verb.  After all, we are all works in progress.  We are all subject to the emotional vicissitudes of life, positive and negative.  We are all created to be joyful but the burdens of sin bring us sorrow.  We are all called to look forward (yes, joyfully!) to our own tomb but have we accepted the new reality that the empty tomb of Jesus is ours for the asking.  How you answer these questions will largely determine whether this Pascha will prove to be a burden or a relief.  The choice is yours.
Wishing you a joyous Pascha (Καλή Ανάσταση), and with love in Christ,
Fr. James Retelas