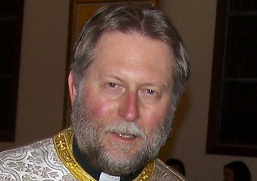 Beloved,
As this newsletter goes out, we are looking forward to Holy Week and the celebration of Pascha.  Pascha, the great work of Salvation by our Lord and Savior Jesus Christ, is our entrance into the new life that God has prepared for us.  It is the power of holiness and love.  If we are going to profit spiritually from Great and Holy Lent and really prepare for Pascha, then this is the time.  Now is the time to come to terms with ourselves and with God.
Can I be absolutely audacious?  Will you allow me to challenge you by suggesting some continuing goals for us all as a Parish community?  Fr. James and I love you as your pastors.  We pray for you.  There are some things we would truly like to see you do that we know will help you toward salvation.
Forgive and be reconciled.  We know that some of you have "issues" with other people in the community.  Maybe family members or just other folks.  We would sincerely encourage you, for your sake and for the sake of your soul, to forgive people who have offended you, and seek forgiveness from those you have offended.  Go and ask forgiveness.  Grant forgiveness.  Whatever excuses we might have for holding grudges, the Lord does not make exceptions.  He commands us all to forgive, and if we do not, He assures us that His Father will not forgive us!  God forgives us.  We forgive others.
Do spiritual work.  We know that many of you participate in our wonderful spiritual tradition.  I am sure some of you have worked hard this Lent.  Many of you pray, come to Holy Confession, read Scripture, receive Holy Communion regularly, and so on.  Our prayer for all of you is that you would build on what you have, and take more steps in spiritual discipline.  Many of you do not keep the fasts of the Church outside of Lent, and we would strongly encourage you to learn this discipline!  Fasting is an essential ingredient of any spiritual life.  Avail yourselves of our Bible studies.  We work hard to prepare quality classes.  Carry what you receive in Church into your homes and personal lives so that you can experience the loving, mystical presence of God's grace every day.
 Do works of love and mercy.  There are people in and out of our Parish who are suffering and in need.  Our Parish does some wonderful things for the needy and for charity in general, but we would truly wish that we could, as a community, dedicate ourselves to helping people.  In order to do this, some of us need to develop more compassion and lose our anxiety about money.  God promises to meet our needs if we will put Him and His Kingdom first.  This means generously supporting God's Church and giving to charity.  All of us need to do this.  God does not begrudge us a bank account, but when others go hungry, and we have the means to help them but remain callous, God regards us as thieves!  St. John Chrysostom tells us that if we have just two pair of shoes and our neighbor has none, then our duty is clear.  If we are Christians who trust God, then we do not hoard.
Do you want Annunciation to be a better Parish?  You could get new and better Priests!  You could recruit a better Church board!  You could weed out any unworthy members and make them leave, and then recruit more qualified people to be members!  Or, to paraphrase Mahatma Gandhi, you could simply become the change you want to see.  Do you want a better Parish?  Challenge yourself.  Make a new start.  Do what God asks you to do.  The Lord loves you so much that He gave His life for you.  Love Him back.  God will bless you, and He will bless this Parish.
The unworthy Priest, Fr. Timothy