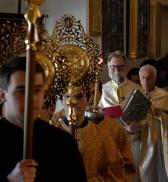 Dear brothers and sisters,
The Divine Liturgy, it has been said, should feel familiar, like "an old pair of shoes," comfortable. And then comes Great and Holy Lent when things shift around a bit. Suddenly for seven weeks we are doing some different things. Sunday is still Sunday, but it is the Divine Liturgy of St. Basil, not our familiar St. John Chrysostom. A little longer; some different prayers. We will be stopping to do the "Prayers for the Catechumens" midway through the service. And then there are the evening weekday services. A different rhythm. But we also need the difference! Routine is important (try stopping to think about everything you do in the morning when you are getting up!), but then again, breaking that routine from time to time is also important. Just as it is important for us to practice good habits, it is also important for us to challenge ourselves from time to time, and that is, in part, what Lent is for. So that brings me to my topic: What are you going to do to challenge yourself this Lent? Here are a few thoughts:
FORGIVE.
Nothing defines our faith like "forgiveness." If I am a Christian, then that means God forgives me and I MUST forgive others if I am Kingdom-bound. Is there someone in your life you need to forgive? Someone whose forgiveness you need to seek? Do it! Pray. Make the call. Apologize. Do what you can to build a bridge. The soil of forgiveness allows the seeds of love to grow!
REPENT.
Are you living with some addiction? In other words, are you a slave to something? An addiction is any repetitive behavior that we do against our wills that harms us or someone else. Please let me assure you that nothing feels better than being free from compulsive, destructive behaviors. Call us for Holy Confession.
PRAY.
Do you have a daily "Rule of Prayer"? Every Christian should have a rule, a guideline. Not that a prayer rule remains the same. It changes and grows along with us. What about setting a goal of praying the Lenten "Prayer of St. Ephraim" every day during Lent? Short, simple. Do you know it? Do you know where to find it? We would be happy to help you with this.
READ.
Do you read the Bible every day? Why not do some of the daily readings for Lent? During Lent we read from the Old Testament: Genesis, Isaiah, and Proverbs. If you have never explored these texts, here is your chance. If you are having trouble understanding what you read, email us. We would love to share some resources with you. I am setting a goal of reading through the Psalter again this Lent. OR, visit our bookstore! Pick up a spiritual book. The Desert Fathers, one of the contemporary elders of our Church. Feed your mind with good ideas!
WORSHIP.
Set a goal of coming to some of the special Lenten services, especially the Presanctified Liturgy on Wednesday evenings. It is harder, if you are preparing for Holy Communion, because, traditionally we don't eat much, if anything, on these days. Our first real meal is after Liturgy at night. The goal here is to discipline our bodies and to focus on spiritual things. Jesus replies to Satan's temptation by declaring "Man does not live by bread alone." We live in a culture that constantly prescribes more of everything, food, sex, money, entertainment, as the way to happiness. A lie. Doing something sacrificial, spiritually and physically "inconvenient," is essentially Christian. As a Christian, I cannot squeeze God into my life. God and His will for me have to be at the center of my life. God has to be in charge. God and His demands on me are not convenient.
GIVE.
Sadly, it seems that the Church is always asking us for money. Unfortunately, this is generally a result of our own tradition of NOT giving to God's work. My giving is a result of my faith in God. Again, if God is at the center of my life, then I NEED to give to Him. God is a priority in my finances. If you are not a "Steward" of the Parish, what are you waiting for? And, by the way, "stewardship" is not a pledge to your local PBS station. Be generous with God! He has given generously to you! During Lent, we especially remember the poor. This could certainly include Orthodox missionaries. Or it could include charities like OCMC. We have a couple of "charity funds" here at the Parish, and these are fueled by your donations. Giving is an act of love, a way of saying "thank-you" to God.
BE QUIET.
I know some folks who do not watch any media, no TV, no movies, during Lent. They also listen to less music or they only listen to Church music. I am not telling you to go that far, but if you want some time to read or go to Church or pray during Lent, then you might have to give up some TV time. Not a problem, I think. Silence is hard to come by these days, but silence is healing. Silence creates a space for us to look into our own selves, and it creates a space for us to listen to God. Quiet is calming. Silence is the authentic language of spirituality.
To whatever extent you accept these challenges, they add up to one thing: They are ways for us to love God, love others, and love ourselves, and love is actually what Lent is about. Have a good Lent!Καλή Σαρακοστή!
And, by the way, please forgive me, the sinner!
Fr. Timothy Robinson