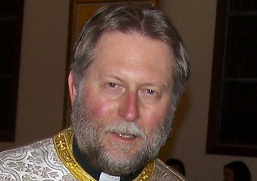 From Saint Cyprian (of Carthage, c. A.D. 200-258), Epistle 1 to Donatu, extract.
Hence, then, the one peaceful and trustworthy tranquility, the one solid and firm and constant security, is this, for a man to withdraw from these currents of a distracting world, and, anchored on the ground of the harbor of salvation, to lift his eyes from earth to heaven; and having been admitted to the gift of God, and being already very near to his God in mind, he may boast that whatever in human affairs others esteem lofty and grand lies altogether beneath his consciousness.  He who is actually greater than the world can crave nothing, can desire nothing, from the world.  How stable, how free from all shocks is that safeguard; how heavenly the protection in its perennial blessings–to be loosed from the snares of this entangling world, and to be purged from earthly dregs, and fitted for the light of eternal immortality!  He will see what crafty mischief of the foe who previously attacked us has been in progress against us.  We are constrained to have more love for what we shall be by being allowed to know and to condemn what we were.  Neither for this purpose is it necessary to pay a price either in the way of bribery or of labor, so that man's elevation or dignity or power should be begotten in him with elaborate effort, but it is a gratuitous gift from God, and it is accessible to all.  As the sun shines spontaneously, as the day gives light, as the fountain flows, as the shower yields moisture, so does the heavenly Spirit infuse Himself into us.  When the soul, in its gaze into heaven, has recognized its Author, it rises higher than the sun, and far transcends all this earthly power, and begins to be that which it believes itself to be!
You, however, whom the celestial warfare has enlisted in the spiritual camp, only observe a discipline uncorrupted and chastened in the virtues of religion.  Be constant as well in prayer as in reading; now speak with God, now let God speak with you, let Him instruct you in His precepts, let Him direct you.  Whom He has made rich, none shall make poor; for, in fact, there can be no poverty to him whose heart has once been supplied with heavenly food.  Ceilings enriched with gold, and houses adorned with mosaics of costly marble, will seem crass to you now when you know that it is you yourself who are rather to be perfected, you who are rather to be adorned, and that that dwelling in which God has dwelt as in a temple, in which the Holy Spirit has begun to make His abode, is of more importance than all others.  Let us embellish this house [ourselves] with the colors of innocence, let us enlighten it with the light of justice: this will never fall into decay with the wear of age, nor shall it be defiled by the tarnishing of the colors of its walls, nor of its gold.  Whatever is artificially beautified is perishing; and such things as do not contain the reality of possession afford no abiding assurance to their possessors.  But this remains in a beauty perpetually vivid, in perfect honor, in permanent splendor.  It can neither decay nor be destroyed; it can only be fashioned into greater perfection when the body returns to it.
Have a peaceful Summer!
Fr. Timothy