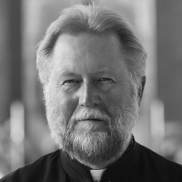 Being a Christian, actually being a Christian is not just a matter of "belonging" to a Church. Being a member of The Church, that is, being a baptized, confessing, communing, worshipping member of The Church is essential. Being a member of a local Parish is crucial. At the same time, being a Christian also requires private and family spiritual practice. Every Christian needs a "rule of prayer." Every Christian needs to practice his or her faith every day Monday through Saturday. I am always serving the Lord Jesus Christ. He is my real "boss." The Lord asks me to take Him with me everywhere I go and in everything I do. I represent Him. I bring His love and righteousness with me to work, to the gym, the restaurants, the dry cleaners, the kids' school, the club, the golf course, everywhere.
This brings us to a very simple ideal: Our homes should be "little temples" of Christian Faith where daily spiritual practice is encouraged and nurtured. Our homes should be places where people love each other and where parents encourage and instruct their children in the Christian Faith. At home we should hold God's Holy Name in reverence, admonish and forgive, nurture and cherish, and exercise the Faith that God has given us. Our homes should be places where God's will is done on earth. Does this describe your home? How can we make our homes into "little temples"? Here are some simple suggestions, gathered from many sources, for developing spiritual life in your home:
1) Take charge and make God a priority! God has established parents, not children, to run the family and set the spiritual agenda. Parents, be spiritual leaders in your family. Set the stage. Do not coerce. Encourage. "This is what we are going to do together." Take time to teach your children. Less than an hour of "Sunday School" every week (assuming you bring your kids to church every week) will not undo 30 hours of public school, peers, and hours of TV. Sadly, with all the competition from our culture, if our kids do not get some "Christian Education" from us adults at home, chances are not very good that they will continue in the Faith. By the way, we are starting to mail out a new publication called "Orthodox @ Home Faith Flyer" that is full of ideas to help you incorporate the faith into your family.
2) Establish family devotions. This may be as simple as praying for a few minutes in the morning before leaving for work or school or even in the car, or it can become more developed. This requires some creativity. If one family member leaves very early, perhaps the others can pray together briefly before they set off, etc. Ideally, devotions should include the Trisagion Prayers, one or more Psalms, and perhaps the daily Gospel reading (and more prayers if you have time). Start small. Do what you can. Stick with it. Even a few moments of prayer makes a world of difference. Prayer invites peace into our hearts and into our homes.
3) Pray together. Pray before meals. Take time to thank God for His blessings. Take time for gratitude. Pray with your spouse and with your children. Pray about your concerns and problems; pray about your children's concerns and problems. Remember that whatever you try to teach your children about Jesus has to be matched by your behavior. If your children see you praying, then they will realize that you believe in God and that you consider prayer important. If you do not live what you claim to believe, the kids will quickly discern the disjunction. Have you visited our bookstore lately? They have a wonderful selection of books of prayers and on prayer.
4) Be together. Often our busy schedules get in the way of what I am describing. We try to fill our lives and our children's lives with too much, don't we? We get ambitious for our children, we want them to succeed, but the most important success they can achieve in life is following Christ. Try to eat together once during the day. Do not allow your children to run into the kitchen, fill their plates with food and then run back into their rooms so they can finish that on-line anime movie they have seen four times already. These days we are entertained to death. There is a time for media, but there also NEEDS to be a time for silence, a space for conversation. Turn off the music, the TV, unplug the earphones. No phones or iPods at the table! Take time to eat together, look at one another, pray together, and talk.
5) Establish a holy space for worship. Do you have an icon corner or shelf somewhere in the house that is accessible to everyone? This space is only for icons, our holy pictures of the extended family of Faith—Jesus and the Saints, prayer books, the Bible, and other items of devotion. It is a place of escape and sanctuary. Remind the kids that they can talk to God anywhere, but also encourage them to go there to pray.
Start now, and do not be discouraged if you run into opposition. Establishing new habits requires persistence and repetition. The devil will not like what you are doing, and he will try to discourage you! But our all-powerful God is on your side, and this is exercise in love and sanity. "Draw near to Him, and He will draw near to you!"
Fr. Timothy Robinson