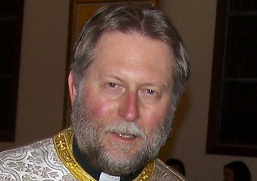 Our personal priorities shape our lives and, ultimately, our destinies.  And we all need to look at our priorities regularly, like at the beginning of the New Year.  What are your real priorities in life?  Here is a central question:  Are you living for what you can accumulate or for what you can become?  Louis L'Amour writes: "We are, finally, all wanderers in search of knowledge.  Most of us hold the dream of becoming something better than we are, something larger, richer, in some way more important to the world and to ourselves.  Too often, the way taken is the wrong way, with too much emphasis on what we want to have, rather than what we wish to become."  (from his Autobiography)  The Lord tells us that a person's life does not consist in the things he possesses (Luke 12:15).
What is a truly Christian priority?  In a word, the "one thing," the great priority for us is this: salvation.  The Lord Jesus prays to the Father in the Gospel of John: "And this is eternal life: that they may know you, the only true God, and Jesus Christ whom you have sent."  The Apostle Paul in Ephesians: "I pray that, according to the riches of his glory, he may grant that you may be strengthened in your inner being with power through his Spirit, and that Christ may dwell in your hearts through faith, as you are being rooted and grounded in love.  I pray that you may have the power to comprehend, with all the saints, what is the breadth and length and height and depth, and to know the love of Christ that surpasses knowledge, so that you may be filled with all the fullness of God."  As Orthodox Christians, we accurately define salvation in the fullest possible way.  For us salvation is forgiveness of sin, and being part of Christ's body, the Church, and being delivered from evil passions, the power of sin, and living eternally in God's Kingdom.  It is falling in love with Jesus Christ.  It is true knowledge.   It is life with God, now and later.  It is peace, love, and fulfillment.  It is being united with God.  It is being truly human, and it is becoming divine.  And it is not self-serving.  Being saved in the fullest sense means embodying the Gospel, becoming a Saint, and that means reaching out to others and leading them to Christ.
Everything we do as Christians, especially everything we do spiritually, should take us in this direction.  The Good News is that we can know God, and God wants us to know Him and to enjoy His love and life.  The Church and our whole spiritual life should facilitate and empower a living, loving relationship with the true God and loving relationships with other people.  This means more than "going through the motions" or making a pledge to the Church or being good or respectable, it is pursuing God with our whole heart, giving ourselves to Him, making Him our first priority.  Nothing else and nothing less can ever satisfy us.  God is Who and What we truly, desperately need.  He fills our hearts with love.  His Spirit shapes us and develops virtue in us.  Life in Christ is the most exciting, real, and meaningful course we can take.  This does not mean leaving the world and abandoning our responsibilities.  It does mean following the basic path of Christian discipleship: Being part of the Church where we can receive God's grace and serve others; praying every day, doing our own spiritual work; and remembering God at all times, being spiritually in His presence no matter where we are and what we are doing.
This is victory.  This is life.  Saint Theophan the Recluse writes: "Here is where freedom is!  The mind is bound with bonds of ignorance, delusions, superstitions, and uncertainties.  It struggles, but cannot get away from them.  Cleave to the Lord, and He will enlighten your darkness and dissolve all the bonds in which your mind languishes.  The passions bind the will and do not give it space in which to act.  It struggles like one bound hand and foot, and cannot get away.  But cleave to the Lord and He will give you the strength of Samson, and will dissolve all the bonds of untruth that bind you.  Constant worries surround the heart and give it no peace.  But cleave to the Lord, and He will soothe you.  Then, at peace, and seeing everything around you clearly, you will walk with the Lord without hindrance or stumbling through the gloom and darkness of this life, to the all-blessed, complete joy and spaciousness of eternity."  Is this your life?  It can be!  Let me challenge you at this beginning of the year to make God the center of your life.  Want more information or direction?  Call or email us.
Happy New Year!
Fr. Tim