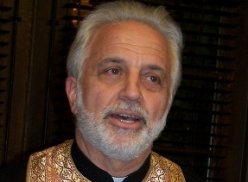 Dear Parishioners and Friends,
I am writing this missive from the small apartment of our son Christopher and his new wife Kalliope, at Holy Cross in Brookline.  Presbytera Barbara and I decided to head east to celebrate my 60th birthday, opting for some quiet time on Cape Cod instead of a big celebration for this "milestone" anniversary.  And indeed it has been calm so far.  Our first morning was the Feast of St. John Chrysostom and what a blessing to rise early for chapel and to hear the beautiful polyphonic chant (Greek and English) of the seminarians.  And do you know what came to mind as I contemplated completing my sixth decade on earth:  "Balance."  But balance not in terms of avoiding extremism but as a means of pursuing sanctity derived from Godly wisdom.
Where is the wise? Where is the scribe? Where is the disputer of this age? Has not God made foolish the wisdom of this world ?(Cor. 1:20)
The ancient Greeks pursued balance because it was synonymous with excellence ("panta arista").  As Christians, we seek balance lest we forget the brevity of this life and that the best is yet to come.  This focus on perfect balance is certainly what we celebrate on the great Feast of Christmas:
Today the Virgin comes to the cave to give birth to the Eternal Word.
Hear the glad tidings and rejoice, O universe!
Glorify with the angels and the shepherds
the Eternal God, who is willing to appear as a little child!
God restores our balance by taking on our humanity, establishing the most profound intimacy imaginable.  The Creator appears as a little child, heaven and earth are united, the uncontainable is contained in the womb of a young Jewish girl and the perfect "love story" begins.
I referenced our son's apartment.  Our daughter-in-law has done a wonderful job in decorating the walls with photos and prints, but the one that really got my attention and inspired this message is one by the poet Robert Browning:
Our family is a circle of love and strength.  With every birth and every union, the circle grows.  Every joy shared adds more love.  Every memory together makes the circle stronger.
As our Annunciation family prepares to celebrate Christmas, may our circle grow stronger as well.  May we all get a glimpse of that perfect balance He is waiting to gift us.  Merry Christmas!  Χριστός Γεννάται.
With love in the Incarnate God,
Father James