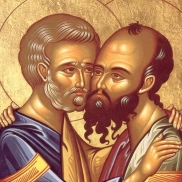 Dear Brothers and Sisters in Christ,
In the Divine Liturgy, just prior to the Creed, the Priest calls us "to love one another that with one mind we may confess…" In ancient times, the gender separated congregation would then exchange the kiss of peace, but today, for pastoral reasons, only the clergy do so. Obviously, our priority as Christians is to love one another. And the ultimate expression of this love is for us to know Jesus Christ and to share His love with others, beginning in our own homes.
So parents, how are you doing with your own children? I ask this because of a noticeably glaring fact, the lack of unmarried young adults in the pews on any given Sunday.  We send our young adults off to college, from UC Davis to Columbia, and many return to us either confused about their faith or with no faith at all. What happens to them when they go to college? We obviously want the best for them academically, in the hope they will succeed in pursuit of the American dream. But while college may prepare them for a career, what does the college environment do to teach and instill wisdom?
With few exceptions, the college campus culture is secular and even hostile to the pursuit of godly wisdom. This past summer, of all the college students who were raised at Annunciation, how many did you see in Church? I'm sure most of them did quite well academically but did they gain any wisdom at college? Sadly, this question falls on deaf ears: "Father, I didn't invest thousands to educate my child so he or she could gain wisdom. I want them to be successful in life."
Well at least we can agree that we want them to be successful. But here is where wisdom is so crucial to the very notion of successful "personhood" and what it means to be fully human (άνθρωπος). Without godly wisdom, our academic pursuits may land us a lucrative career but not much else. Jesus asks us rhetorically: "For what profit is it to a man if he gains the whole world, and loses his own soul?" (Mt. 16.26) Perhaps more parents, grandparents and godparents need to ask this of our college students. Then maybe the wisdom of Solomon will take root in the next generation:
"The fear of the Lord is the beginning of wisdom, and the knowledge of the Holy One is understanding."  (Proverbs 9.10)
With love in Christ,