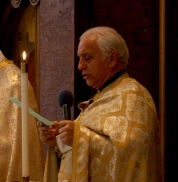 "A Child Steals the Show"
Προσφιλεῖς Ἀδελφοί καί Ἀδελφές ἐν Χριστῷ,
Σέ αὐτή τήν εὐλογημένη ἑορτή τῆς Γεννήσεως τοῦ Λυτρωτοῦ καί Κυρίου μας Ἰησοῦ Χριστοῦ, σᾶς χαιρετῶ μέ τήν χαρά καί τήν είρήνη πού συνοδεύουν τή λατρεία μας, τίς συγκεντρώσεις μας ἐν τῷ ὀνόματί Του στά σπίτια μας καί στίς κοινότητές μας, καί πού μᾶς ἐμπνέουν σέ πράξεις εὐσπλαγχνίας καί καλωσύνης. Οἱ καρδιές μας εἶναι γεμάτες μέ χαρά διότι ἡ ἐλπίδα μας ἀνανεώνεται μέ τήν ἐκπλήρωση τῆς θεϊκῆς ὑποσχέσεώς Του νά μᾶς λυτρώσῃ! Βιώνουμε, ἐπίσης, τήν εἰρήνη τοῦ Θεοῦ,τήν ὑπερέχουσα πάντα νοῦν (Φιλιπ. 4:7),καθώς ἡ καρδιά καί ἡ διάνοιά μας γεμίζουν μέ τήν παρουσία τοῦ Χριστοῦ.
Ἐπιπλέον, καθώς διακηρύσσουμε Χριστός γεννᾶται, Δοξάσατε, εἴθε νά προσφέρουμε μαρτυρία τῆς εἰρήνης ἡ ὁποία προέρχεται ἄνωθεν, ἀποκαλύπτοντας τήν ἀγάπη τοῦ Θεοῦ στή ζωή μας μέσα ἀπό τή Σάρκωσή Του.
Μετά πατρικῆς ἐν Χριστῷ ἀγάπης,
† ὁ Ἀρχιεπίσκοπος Ἀμερικῆς Δημήτριος
This excerpt from Archbishop Demetrios' Christmas message caught my attention, especially the reference to "our hearts being filled with joy and our faith is renewed" (bold print). The mystery of the Incarnation of the Son of God begins "naturally" with a supernatural birth and who can take exception to the wonderful story of a child being the center of attention at Christmas. We were blessed recently to celebrate the marriage of our oldest son Nicholas, in Seattle. After months of preparation, the wedding day arrived. There were eight Priests, 16 bridal attendants and groomsmen. The Church was exquisitely adorned with flowers. The female chanters had perfect pitch as they sang "Axion Estin."  All was ready for our sweet Nina to make her entrance with her father Perry when, wait! Two 15 month-old flower girls made their way down the aisle, one running (our granddaughter) and the other taking her sweet time. Of course papou James was beside himself as the entire congregation enjoyed the moment. I must admit they momentarily stole the show and, why not? It was the innocence of these children that set the mood for what was truly a joyous celebration. And is it not the innocence of a newborn child that reverses the course of human history? The Christmas Feast reminds us that this God-child becomes the perfect bridge restoring fallen man. This most unique newborn child is the one who "steals the show" of salvation history. He is same one who will walk with us after His Resurrection and open our eyes to recognize Him: "Did not our heart burn within us while He talked with us on the road, and while He opened the Scriptures to us" (Lk. 24.32) This Christmas, let the newborn child open our eyes to His love and peace, "the peace of God, which surpasses allunderstanding" (Philippians 4.7).
Christ is Born. Glorify Him!  Χριστός Γεννάται. Δοξάσατε!
Father James