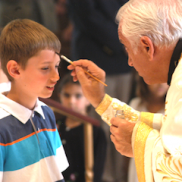 No sooner does parish life ramp up after summer and we find ourselves in the Christmas "pre-season." I was at Home Depot the other day, mid October, and I was taken aback by the glut of glittering fake Christmas trees. Obviously the only factor that determines the launch of the holiday shopping season is consumer demand. So for the next two months we will be bombarded with commercial stimuli, subtle and overt, to get us to open our wallets and max out our credit cards. But the real danger is not the overemphasis on spending- even your church will ask you for a Christmas gift- it's the temptation to be distracted from what is really important. Materialism in and of itself is not evil. St. Paul reminds Timothy: "For the love of money is a root of all kinds of evil" (1 Timothy 6:10). Ultimately, the crucial choice is what (whom) do we love? Our faith is very down to earth, very "materialistic" simply because God has assumed our very human nature. The Second Person of the Triune God is perfect God and perfect man. May I be so bold as to say He is also the perfect consumer. Jesus didn't condemn business practices until they crossed the line and compromised the sanctity of the Temple.
Then Jesus went into the temple of God and drove out all those who bought and sold in the temple, and overturned the tables of the moneychangers and the seats of those who sold doves. And He said to them, "It is written, 'My house shall be called a house of prayer,' but you have made it a 'den of thieves.'" (Mt. 21:12,13)
The message is abundantly clear here. Regardless of our vocation in life, our daily business decisions, our priorities will determine if we are growing in grace or devolving spiritually. Fortunately, we as Orthodox Christians have a foolproof Tradition (Big T) to guide and safeguard us. It is a prescription for holiness but, make no mistake, it is not for the timid. From the moment we were lifted from the waters of Holy Baptism, we were destined to go from glory to glory. Jesus claimed us that day and calls us to abide with Him in the most personal of all relationships. So for the weeks leading up to the great feast of Christmas, let's be distracted for all the right reasons. Let our "business" decisions, be they for +he Build or the parish-operating budget reflect our love for Christ and the vision to share His good news. After all, that is the "WHY" we are here, first and foremost.
With love in the Incarnate Lord,
Fr. James Retelas
Proistamenos