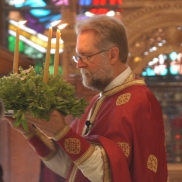 The Church does three things: we worship God, we preach the Gospel, and we do good. We can and should add some nuance to those points, but that is about it. We (the Church) also do what we do authentically. This means that we need to actually have a relationship with the true God in order to represent the true God and in order to proclaim a message about Him. Being in a relationship with God means that He is transforming us into our true selves, and He is transforming our relationships with other people. Transformed lives and transformed relationships are how we show the world around us God's power and presence in us. No transformation, no message. No transformation and we look like some antique benevolent organization. We become just another club.
Did you follow that? Let me develop these last two points about transformation. First, can people change? The answer, if we are Christians, is yes, by God's grace, we do change! Change is hard, but God calls us to change. If we could summarize what salvation means to us on a practical, day-to-day level, it is change! As we cooperate with God, He moves us by the power of the Holy Spirit from wherever we are to where we need to be: from dishonesty to honesty, from fear to faith, from anger to compassion, from lust to love, from pride to humility, and on to greater love and greater virtue. If we work with the Holy Spirit, we continue to change throughout our lives! We become holy. This change, this transformation, leads to a revolution in our relationships. We tend to be hypocrites in the way we relate to others. We have a very high set of expectations for other people. We hold others to strict standards, and then, when they fail us, as they seem doomed to do, we are disappointed and angry. On the other hand, we want everyone else to serve our needs. We feel entitled. We defend ourselves. We demand that others treat us with patience and love, we excuse our bad behavior, and we demand that people give us plenty of space to learn and grow. In a word, we tend to be arrogant and critical.
The Gospel of Jesus Christ turns us upside down. God teaches us to be patient with others the way He is patient. He blesses those who don't believe in Him. He sends His rain on the just and unjust. He loves people, and He wants to forgive sins. He calls us to hold ourselves to a strict standard, to be honest with ourselves. This is the basis of humility and repentance and confession. I see myself for who I am. I do not say "I am a good person." I admit that I sin, that I need to repent and be forgiven, that I am no better than anyone else. He teaches us to focus on our sins and not look at the sins of others. He teaches us to give everyone else a thousand breaks! We learn to love others and forgive those who wrong us. This is transformation. This is real humanity. We become like God. We become easier to be around, easier to work with.
Here is the point: Transformed people and transformed relationships in the Church are, in a sense, our "product." This authenticity is, to reiterate, the evidence that God is working in us. Just before His Passion, Jesus tells the Apostles: "I give you a new commandment, that you love one another. Just as I have loved you, you also should love one another. By this everyone will know that you are my disciples, if you have love for one another." Think about what this means in the way we deal with each other. Making the relationship a priority means that we endeavor not to hurt or embarrass others. Arguments or persistent disturbances grieve us deeply and motivate us to find reconciliation. We are working to help others. We want others to prosper and be saved. When we make decisions that concern anyone else, we must consider "How will this affect my relationship with this person? Will this help bring this person closer to the Lord Jesus Christ?" The Apostle Paul writes to the Christians at Rome: "Let love be genuine; hate what is evil, hold fast to what is good; love one another with mutual affection; outdo one another in showing honor…. If it is possible, so far as it depends on you, live peaceably with all." So, in other words, do everything you can to develop and preserve the relationship! Would you like to be a part of a Church where people take this seriously?
There is so much about this in the New Testament! Have you ever read the Apostle Paul's Epistles in the New Testament? Take some time to read through the final chapters of Romans (12-16) or his shorter letters to communities: Galatians, Ephesians, Philippians, Colossians, 1 and 2 Thessalonians. Notice how strongly the Apostle makes the point that Christians need to love each other and get along with each other. Love is the answer in the house that God rules. Everyone needs to work on themselves and on their relationships in the new Family of Faith, the Church. This is salvation. Neglecting this, in the Apostle's mind, is a denial of the Faith, a denial of Christ. So, here is the point: Being a Christian in the Church means making our relationships with each other a priority! Getting along with each other, loving each other is the way of showing that God is among us and within us.
The question is: How can we love each other more?